I can't believe what a horrendous hostess I've been, utterly negligent in my duties. For that, I do so apologize. I simply do not know where this week went.
Zoom zoom.
First, I want to share with you another splendid kit designed by Gypsy Couture, called Mumbo Jumbo. Stuffed full of fun and freaky bits and pieces, ideal for all your Halloween layout needs.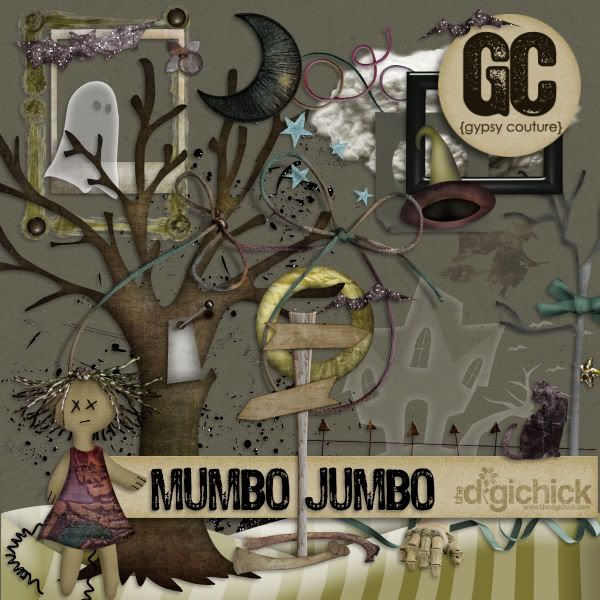 Creep over to
The DigiChick
and grab this kit at its introductory price.
This is my oldest. Since he always makes some weird, goofy face nearly each and every time I try to snap a photo I figured I might as well get some use from them. Heheehe
Also, I have a little goodie just for you as well, another little bit of my Autumnesque kit. I hope you're enjoying them, I'm having a blast designing and putting them together. Thank you for all the wonderful comments, I appreciate ya'll taking the time to leave me a bit of lovin'. Nubia, you'll see I took your advice, thank you so much. This week's download..
has expired. Sorry.
I've really enjoyed putting together this kit, (and the next one I've got going), and since I welcome all observations and suggestions I thought it would be nice to share the hints we like best. I'll start off with a few..
1. I know you've heard this over and over (there's a reason for that) but save, save save. Whether you're working on a layout or designing a kit, save again and again and again. It's definitely worth the moment it takes to click that save button not to lose your project.
2. Back up your files. I would hate to lose all my scrapbook files (which, btw way has happened to me not once, but twice) but one of my greatest fears is to lose all my photos. Living with a digital camera, all my recently taken pics (the last 3 years) are all housed on my computer, if it decided to suddenly pass away, I would lose everything. It would break my heart not to have the photos I took at my daughter's wedding, the times she tried on gowns, my children's college graduations, my father surrounded my his grandchildren. I backup to an external hard drive (as well as upload to Flickr & Facebook) on the first of every month. Back it up.
3. As far as working on a layout, something I prefer to do is place the drop shadow on a layer of its own. I'm not great with shadows so it gives me the option to play with it or delete and try again.
4. I know I picked this one up at either
Pioneer Woman
or
Coffee Shop
, (can't remember which, both are wonderful sites), and I have used it dozens of times. Works for photos as well as all things digitally created and it's so very simple. If you would like to brighten or lighten an item up, duplicate the layer and use your blend modes. I prefer using either overlay or hard modes.
Okay, your turn. To sweeten the pot a touch, I have a special goodie for the first ten people who leave a hint under comments and for the rest I'll draw a few names from them as well. What do you get you ask? This set of six Autumnesque glitters. YaY!
All you have to do is leave a hint for a chance to winner, or be one of the first ten. Isn't it worth a moment of your time? Please say yes. ( =
Be sure to leave your email so I can contact you.
Okie doke, I got tons to do today. A Halloween kit to finish, photos to take for the
You Capture
challenge and laundry and cooking (bleeck!).
I'll leave you with a little something for the weekend, hope you have a wonderful one.

Pumpkin Martini
Ingredients ~
1/2 oz Sylk Cream Liqueur
2 oz vanilla vodka
1/2 oz pumpkin liqueur or pumpkin spice syrup
1 tsp whipped cream
cinnamon stick for garnish
Pour the Sylk Liqueur and vodka into a shaker filled with ice. Shake well. Add the pumpkin liqueur or syrup. Shake again. Strain into a chilled cocktail glass. Top with a teaspoon of whipped cream. Garnish with a cinnamon stick.
Recipe courtesy of
The Hostess With The Mostest